When challenges act as innovation drivers: the story of "Made in Cluj" in Romania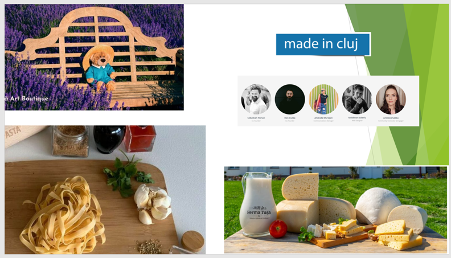 When market conditions change, new innovative initiatives flourish. In Cluj, Romania, moving the physical local market online, has succeeded, in large part, due to new preconditions created by the Covid -19 pandemic.
The online market called "Made In Cluj" is an online platform that brings together the entire community of producers in Cluj region under the same umbrella. Whether a family bakery, small farm, floral entrepreneur, or a craft brewery, they have the opportunity to list their business and products – and customers see them all in one place.
The platform "Made In Cluj" was launched in April 2020 in Romania under the slogan "Only Together we will not go bankrupt" This is the first online store that brings together small producers in the Cluj County, Romania.
The story of Made in Cluj
When the pandemic hit, small producers without a website and without the possibility to participate to an open market or showroom were very worried that they will go out of business.
Made in Cluj was already on its way, as part of a vision to promote local and regional producers, and support small businesses and entrepreneurs in the local economy; however the founders decided to launch it earlier than planned seeing how local producers were struggling without being able to reach their customers.
"The reality of the moment forced us to rethink our daily behaviour. From drinking coffee to buying vegetables for a soup. If, until now, going to the market and choosing the carrots from the table of a grandmother from nearby village was a natural thing, at this moment it is not as simple. Thus, the idea of digitalizing the market has moved from the dream stage to the necessity stage. In addition, small producers, entrepreneurs, those with small family businesses, do not have the opportunity to enter the market opened by a chain of stores or supermarket. Which makes them harder to access ", says Dan Ciulea, co-founder of MadeInCluj.ro .
The platform is designed as a classic online store, so the customer places an order, which is then sent to the producer. The order is received, processed and delivered by the producer and the customer pays directly to the producer cash or card when he receives the order.
One of the key-ingredients of the platform is that registration of the business and the products is extremely simple, as the platform was especially designed for those who are not familiar with the technology.
2 months after its official launch, MadeInCluj has 200 producers listing over 1,400 products. They have also over 32,000 active members in their Facebook community.
The MadeInCluj Team: