Horizon 2020 Rubizmo, Ruritage, Ruralisation Liverur and Polirural Summer School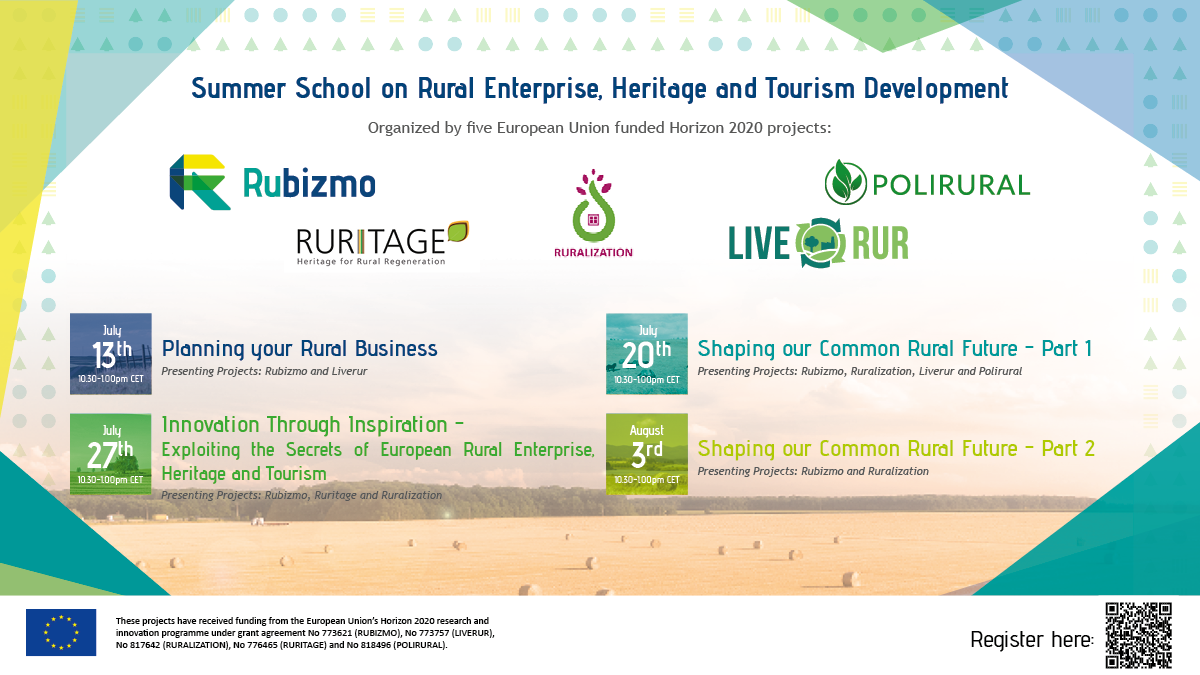 Five European Union funded Horizon 2020 projects - Rubizmo, Ruritage, Ruralization, Liverur and Polirural focusing on Rural Enterprise, Tourism and Heritage Development have come together to offer a free short online Summer School over four mornings on July 13th, July 20th, July 27th and August 3rd.
The aim of the programme is to showcase some of the more significant rural development tools that have been developed by these projects in recent years that can be used in a wide range of influential roles across rural development especially in coaching, teaching, policy making and advisory contexts.
This programme is targeted at teachers, lecturers, rural enterprises and agriculture & business advisors as well as activists, policy makers and leaders in rural community development. If you have an influential role in rural development, participation in this summer school will equip you to use the most innovative rural development tools in your practice that have been developed by these five Horizon 2020 projects.
Workshops take place online (via zoom) on July 13th, 20th, 27th and August 3rd from 10:30 to 1:15pm CET. This programme is free to attend but registration in advance is necessary and is possible for individual or all sessions.
You can reserve your place by registering here. 
After registration you will receive some short introductory material in advance of each session which will help you make the most of these short interactive workshops.