RUBIZMO Café Talks - 6th Cycle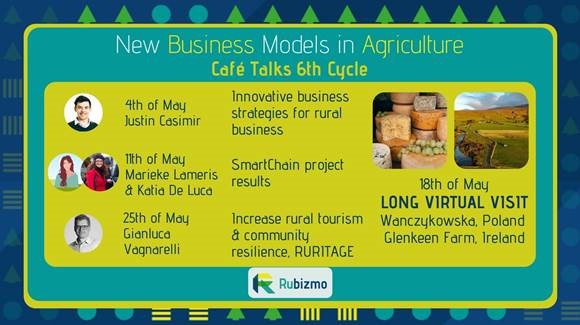 This time it´s all about food chains and business strategies!
In three 30-minute sessions our international experts from RISE and the European funded projects SMARTCHAIN and RURITAGE will introduce you to innovative ideas for your rural business.
The first session will explore concrete examples of innovative business strategies that can unlock the economic potential of rural areas. The second part will present the results from the SMARTCHAIN project, focusing on collaboration across short food chains. The third and final session will feature the RURITAGE project's results, with a focus on the heritage potential of rural communities.
Finally, during the cycle another great VIRTUAL VISIT will introduce you to the organic farm and cheese factory of Wanczykowka, in Poland and the Glenkeen Farm, Ireland, which has a focus on sheep farming but also provides touristic services . Both these businesses exhibit the potential for rural areas to create economic opportunities and boost local development.
Each of these quick and easy to access sessions will be composed of a 15 minute presentation and 15 minutes of open discussion. Everyone can access the sessions and get inspired.
With over 200 registrations during the previous cycles, the Café Talks have proven their success and relevance.
Interested participants can register here or find more information on our website RUBIZMO.EU or our LinkedIn and Twitter social media channels.