#1 Innovative Business Case: Bio refinery Pomacle Bazancourt (FR)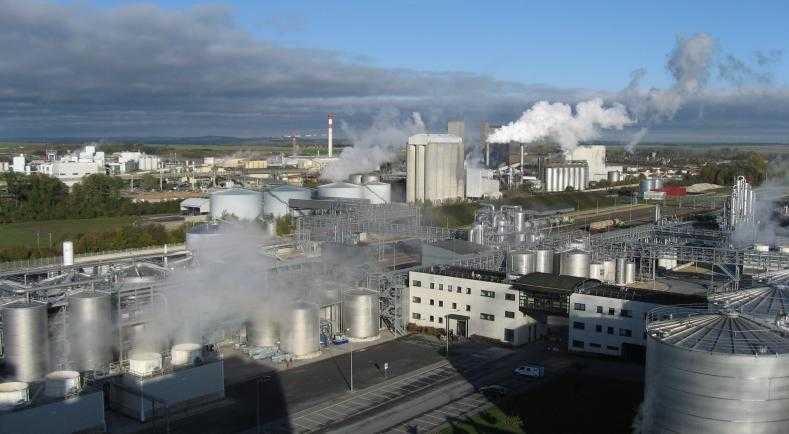 >2000 direct and indirect jobs created
Industrial scale ecology in action (4Mt biomass/year)
Production of biomaterials and biofuels
8 companies & open innovation platform approach
In the 'Grand-Est' region of France, not far from Reims, is one of Europe's largest biorefinaries. It represents an area of 690 hectares, more than 1,200 direct jobs onsite, 1,000 indirect jobs in the Reims basin and 4 million tons of biomass transformed each year to create sugar, glucose, starch, food or pharmaceutical alcohol and cosmetic assets.
Although operating as a single industrial entity, it is in fact a platform where different factories make up an industrial ecosystem on the same site. Firms supply each other with intermediate products and/or energy and water. The resulting economies of scale from this close proximity of different players are a key competitiveness factor. The end result is an annual turnover in excess of 800 million euros per year.
In addition to the industrial capacity and applications, Pomacle Bazancourt is also a dedicated centre of French agro-industrial research and innovation. The European Center for Biotechnology and Bioeconomy (CEBB) was inaugurated in December 2016, where researchers and industry work hand in hand to capitalise on resources, improve the environment and boost competitiveness.
A strong investment and commitment from local authorities has been necessary to develop this kind of concept; but undoubtedly, new biorefineries in Europe can bring a strong added value to agriculture. By combining identification and best use of each residue business models here have been able to replace, upgrade and add new forms of collaboration in the bio economy.
Read more:

Agriculture.gouv.fr (in French)
Info Chimie (in French)
Cristal Union site profile (in French)